Am MS SQL Server kommt die Meldung im Error Log:
SQL Server Scheduled Job 'MaintenancePlan.LogBackup' (0x6FFD8CF503FC6B4AB3A91023FA1B0DA4) – Status: Failed – Invoked on: 2018-09-17 12:00:00 – Message: The job failed. The Job was invoked by Schedule 6 (MaintenancePlan.LogBackup). The last step to run was step 1 (LogBackup).
Package "MaintenancePlan" failed.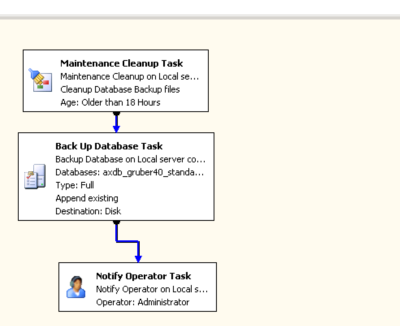 Um die Ursache für den Fehler zu finden, muss man im MS SQL Server Management Studio auf:
Management – Maintenance Plans – den "MaintenancePlan" auswählen – rechte Maustaste – View History.
Hier kann man den Fehler nun genauer untersuchen. (Das Öffnen der LOG kann bis zu 30 Minuten dauern)
In diesem Fall gab es ein Problem beim Versenden der Nachrichten.
Der Error war:
Executing the query "EXECUTE msdb.dbo.sp_notify_operator @name=N'Administrator',@body=N'SQL Backup LOG
Server: xxx-001
Datenbanken: Alle
Fullbackup oder Wartung fehlgeschlagen'
" failed with the following error: "Cannot insert the value NULL into column 'permission path', table '@temp'; column does not allow nulls. INSERT fails.
No global profile is configured. Specify a profile name in the @profile_name parameter.
The statement has been terminated.". Possible failure reasons: Problems with the query, "ResultSet" property not set correctly, parameters not set correctly, or connection not established correctly
Nach einem Update hat sich scheinbar das Standard Profil am SQL Server zum Versenden von Nachrichten deaktiviert.
Um es wieder zu aktivieren muss man unter:
Management – "Database Mail" – rechte Maustaste – "Configure Database Mail" – Manage profile security – das Profil aktivieren und unter "Default Profile" auf YES stellen.
Dann sollte der Error nicht mehr kommen und das Versenden der Nachrichten funktionieren.